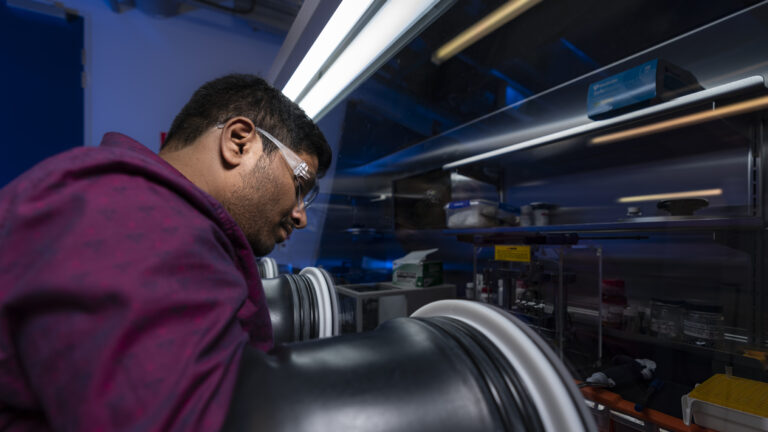 The Battery Storage and Grid Integration Program hosts two world-class laboratories enabling cutting-edge research to optimise power systems and explore the next generation of batteries.
Grid Simulation and Distributed Energy Resources Laboratory (DER Lab)
A state-of-the-art testing facility which mirrors the energy grid. The Distributed Energy Resources Laboratory will provide the Australian and international research and development community with a fail-safe power system in which to rapidly, efficiently, and securely develop and test the technologies and systems before deploying them.
The DER Lab will include an electrically equivalent distribution network, transformers, batteries, solar generation as well as high speed, monitoring, control and optimisation capabilities. The DER Lab represents an important national facility for collaborative development and testing of new capabilities to support the operation of electricity systems with a high-uptake of renewable and distributed generation and energy storage.
The DER Lab has been made possible by the investment of $1.5 million from the ACT Government's Priority Investment Program.
The Lab will be open to researchers, educators and industry partners in 2021.
Contact: Dr Björn Sturmberg, Research Lead, Battery Storage and Grid Integration Program, Australian National University.
Partners: ITP Renewables, evoenergy and UNSW Canberra.
Battery Materials and Energy Storage Laboratory (Battery Lab)
In a decarbonising world, energy storage is ever-increasing in importance. With more renewable forms of energy coming into play and an increase in electrification of vehicles and devices, we need to find more sustainable forms of batteries and storage.
This national facility enables research into new battery storage technologies including lithium-ion, sodium-ion and potassium-ion batteries, hybrid capacitors and supercapacitors. The Battery Lab supports the characterisation, development and performance testing of battery materials, electrolytes and devices.
The facility is hosted within the Research School of Chemistry at ANU.
The Battery Lab was officially opened via an online event in February 2021. View the video recording here.
Find out more about the research being enabled through the Battery Lab.
Take a virtual tour of the Battery Lab here.
Contact: Associate Professor Alexey Glushenkov, Research Lead, Materials and New Technologies for Battery Storage, School of Chemistry, Australian National University.