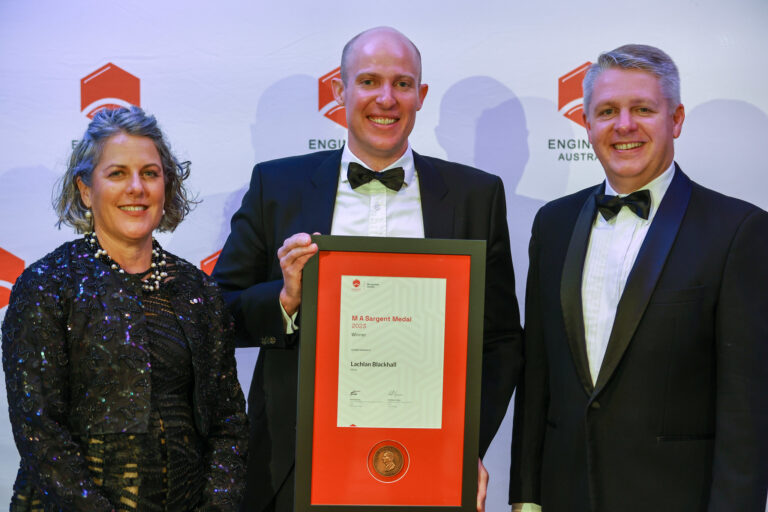 13 October 2022
The Battery Storage and Grid Integration Program (BSGIP) was recognised at the prestigious Engineers Australia national awards ceremony in Sydney last week. BSGIP received two honours, an individual award and a project finalist award, in a celebration of outstanding people and the best engineering projects from across Australia.
The Evolve project team were finalists for the Sir William Hudson Award. This award recognises Australia's top engineering projects and the teams behind them. Earlier this year project Evolve won the Engineers Australia Canberra Excellence Project Award, putting them in the running for the national award.
Project Evolve: smart software for the orchestration of 21st century electricity systems, is a joint initiative with technology partner Zepben. Key to Evolve is the use of dynamic operating envelopes (DOEs) – a new tool that can allow for greater penetration of renewable energy to safely enter the electricity grid.
"My congratulations to the entire Evolve team. I'm so pleased to see recognition for such a significant and impactful body of work," said Lachlan Blackhall, Head of the Battery Storage and Grid Integration Program and Entrepreneurial Fellow at the Australia National University. "In terms of the impact of the Evolve project, we are now hearing about the interest for DOEs and evolve in the UK. This is in addition to interest and uptake of our ideas in the US and NZ. This is the ultimate recognition of a job well done!"
Dynamic operating envelopes enable electricity networks to change the import and export limits over time and location based on the available capacity of the local network. Rather than building more poles and wires, dynamic operating envelopes can allow for up to 250 per cent more energy to flow through the existing network.
The network capacity unlocked by Project evolve will allow customers to access new opportunities to generate, store, share and trade their energy, while maintaining safe network operating limits. Currently used by electricity networks across Australia, there is the potential for this technology to be used internationally, accelerating decarbonisation efforts on a global scale.
Head of the Battery Storage and Grid Integration Program, Lachlan Blackhall, was also honoured with the M A Sargent Medal. This award recognises a highly significant contribution, through technical innovation, to the science or practice of electrical engineering and leadership relating to electrical engineering.
"It is an honour to be recognised with this award. However, the achievements recognised by this award are impossible to achieve alone. I am fortunate to have worked with incredibly talented and dedicated teams and collaborators throughout my career. In this context, I would like to acknowledge not only their contributions to the achievements being recognised but also to thank them for their ongoing dedication and support. I extend this thanks and acknowledgement particularly to the Battery Storage and Grid Integration Program team, who have worked tirelessly over recent years, and through a global pandemic, to ensure our work has had impact both nationally and internationally."
Find out more about the Engineers Australia Awards here.