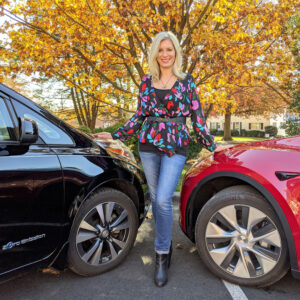 Date:           Tuesday, 25 May, 2021
Time:           10 – 11:00 am
Forum:         Battery Storage and Grid Integration Program Webinar
Speaker(s):  Erika Meyers, World Resources Institute (WRI), Ross Centre for Sustainable Cities
Location:     Zoom link
RSVP:          Please email Deborah Taylor to register your attendance. 
This presentation will provide an overview of the U.S. trends in vehicle-grid integration (VGI) and a troubling gender discrepancy for electric vehicle (EV) purchasing patterns and VGI enrolment. Women purchase more than 50 percent of all new cars in the U.S. but only represent 30 percent of the EV purchasing demographics. This trend also has an adverse impact on VGI programs. According to new WRI and Honda research, women are far less likely to enrol in VGI programs and have significantly more concerns about them, which will have long-term impacts if these programs are unintentionally designed with a male consumer bias.
Format:
10.00 am – Introduction by Laura Jones, Battery Storage and Grid Integration Program, Australian National University
10.05 am – Presentation by Erika Meyers, World Resources Institute (WRI), Ross Centre for Sustainable Cities
10.40 am – Audience Q&A
11:00 am – Close
About the speaker
Erika Myers is an electric vehicle subject matter expert at WRI Ross Centre for Sustainable Cities. She leads the electric mobility team's research efforts and works with cities across the globe to identify opportunities to electrify transportation. Erika currently serves on an EV steering committee for the U.S. Department of Energy and holds a leadership position in the Women of Electric Vehicles, Washington D.C. Chapter. Erika previously served as an EV advisor for the Fuels Institute, the National Energy Foundation, and U.S. DRIVE (Driving Research and Innovation for Vehicle efficiency and Energy sustainability). Prior to joining WRI, Erika was the Principal of Transportation Electrification for the Smart Electric Power Alliance (SEPA), an Alternative Fuels and Clean Energy Consultant with ICF International, a Renewable Energy Manager for the South Carolina Energy Office, and a Clean Cities Coordinator for the Palmetto State Clean Fuels Coalition. Erika holds a Bachelor's degree in biology from Clemson University and a Master's degree in Earth and Environmental Resource Management, with a concentration in renewable energy and climate change, from the University of South Carolina. Erika also 'walks the talk' by owning two battery electric vehicles powered by 100% renewable energy, which she manages through a networked Level 2 residential charger.
This event will be recorded. The recording will be made publicly available after the event on BSGIP.com
By registering for this event you are also subscribing to the Battery Storage and Grid Integration Program mailing list. You can unsubscribe at any time by clicking on the unsubscribe button at the bottom of correspondence.