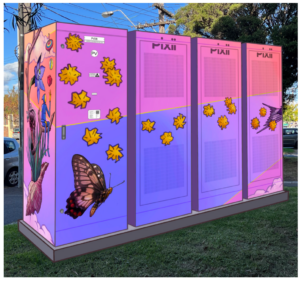 The Battery Storage and Grid Integration Program is utilising its expertise in energy algorithms to develop and deploy a software package for Australia's first inner-urban community battery.
The Fitzroy North community battery project, led by the not-for-profit organisation the Yarra Energy Foundation, aims to demonstrate the operational and commercial viability of a community battery model in an inner-urban setting.
The software developed by the Program will underpin how electricity is tracked from rooftop solar panels to the battery and how and when it is discharged from the battery back to customers.
The battery, first and foremost will be utilised by the residents who will benefit from the local generation and consumption of renewable energy without the need to modify their behaviour.
As well as benefiting the local residents, the battery provides services to the electricity grid. The software will optimise capabilities to enable the battery to participate in wholesale energy market arbitrage. Essentially, energy arbitrage is the buying of electricity from the market during off-peak periods, when the price is low, storing that electricity in the battery and then discharging it during peak periods for a profit.
The software will also enable the battery to contribute to the electricity grid's frequency control ancillary services (FCAS). FCAS allows power system operators to balance control and demand throughout the electricity system. This is essential to ensure that the operational restrictions, such as voltage and thermal limits, are not breached at any given moment. It requires precise control of system frequency and is aided through the use of operational reserves, such as batteries.
What is a community battery?
Community or neighbourhood batteries are a type of mid-scale storage located in front of the meter in the distribution network, connected to a group of households. The battery may be owned by energy retailers, distribution networks, local councils or community groups and can provide stored energy for one or two hundred dwellings. They range in size from a wardrobe to a shipping container and have power capacities of about 0.1 – 5MW.
Why a community battery?
Community batteries are an interesting form of energy storage as they have the potential to offer clean, renewable energy, via battery storage, to all energy users, be they vulnerable customers, renters and those who do not own their own solar panels. But it is not just householders who are interested community batteries. Energy network operators, energy retailers, market operators, consumer advocates and governments are interested in the wide range of benefits community-scale batteries can offer. Find out more here: Neighbourhood batteries in Australia.
The Fitzroy North community battery project forms part of the Neighbourhood Battery Initiative, led by the Victoria State Government Department of Environment, Land, Water and Planning. Find out more.