Neighbourhood batteries have attracted much interest and excitement in Australia and elsewhere. Providing mid-range energy storage, they seem to be a missing piece in our transition to a sustainable energy system. A particularly important benefit is they can enable integration of more renewables such as rooftop solar panels.
The role that they will play however is not guaranteed. Whilst they offer a lot of potential benefits, there is also often great misconception about the "value stack" they can provide and many barriers to achieving this "value stack". It is therefore important when at this initial stage of approaching a neighourhood battery project to manage your expectations accordingly.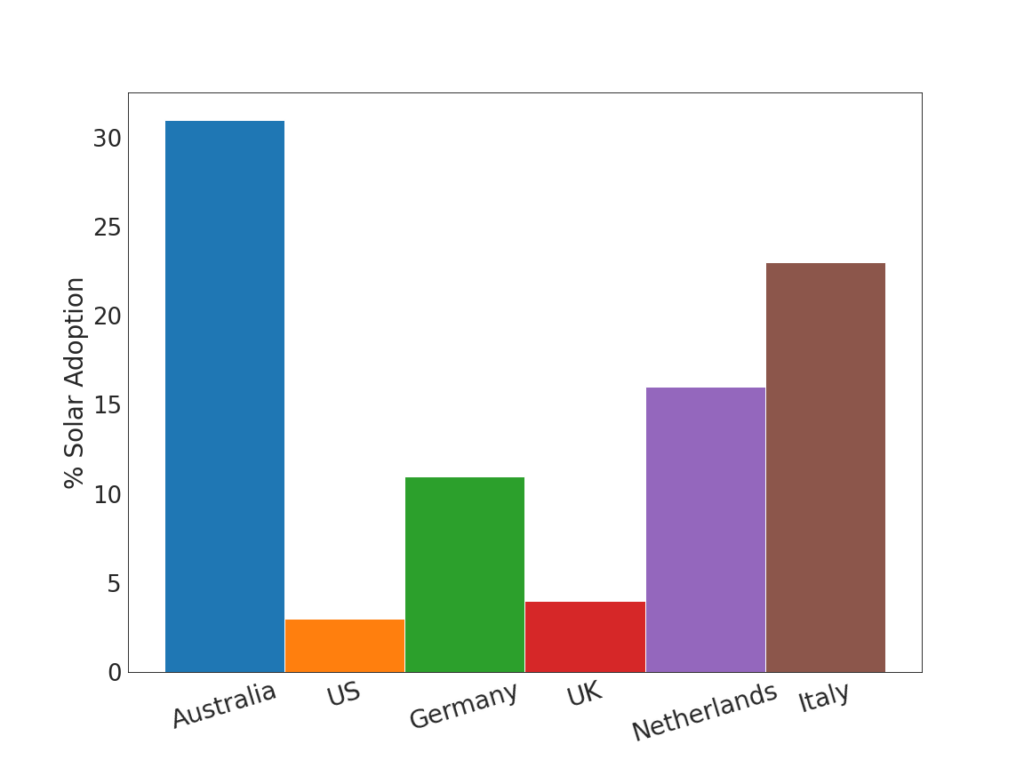 Australia has the highest per-capita rooftop solar installations in the world with installations on over 31% of free-standing homes, stimulated in part by government incentives (e.g. the Renewable Energy Target). As we continue to add more customer energy resources (CER), including electric vehicles, we need to coordinate those resources to maximise our utilisation of the grid capacity we have. Neighbourhood batteries can help us manage this coordination, and in a relatively simple way compared to some of the alternatives e.g. complex tariffs.
(Note: this will depend however on how the battery is operated and its business model, as you will learn as you explore the hub)
Better management of customer energy resources should enable fair payment to customers for their resources e.g. solar feed-in tariffs, as well as reducing the need for solar curtailment or expensive network upgrades. Neighbourhood batteries have the added benefit of increasing resilience by potentially providing a back-up during power outages (depending on its configuration). Indirect benefits include enabling communities to work together to act on climate change, creating models for people to engage on issues that matter to them, building social capital in communities and increasing the diversity and resilience of the energy system.
While there are many potential benefits from neighbourhood batteries, they are not necessarily the best solution for every community or site. There are substantial costs associated with buying and setting up a battery of this size, and various administrative and governance hurdles. Many of these issues could become less challenging over time as some of the implementation issues get worked through.
Potential challenges include obtaining network data, access to land, complying with State legislation (e.g. planning, heritage, safety), developing a workable business model, the cost of purchasing and running the battery, overheads and staffing, risk assessment and insurance, access to technical expertise, establishing decision-making processes, and community disinterest or opposition. These potential challenges are not to be taken lightly. Conducting a thorough feasibility assessment is essential, and this should be preceded by a clear understanding of the need and purpose of a neighbourhood battery in your particular context.
Some neighbourhood battery projects involve series or networks of batteries, for example, across a region. While networks of batteries obviously involve more cost and effort, they also enable groups and organisations to benefit from economies of scale, in terms of financial aspects (battery procurement, software, insurance, installation and maintenance contracts, market participation) and also processes (business model and operating model development, forging relationships, learning and expertise).
Note that projects involving networks of batteries still need to engage with local communities where batteries will be installed, to ensure community support and that the business and operating models they've developed suit those communities' needs and requirements. They also need to find suitable locations for the batteries and to gain access to the land through leasing or other arrangements.
Our trials and programs page will link you to some existing and planned battery projects, including resources and stories from other groups' experiences. We also summarise the current policy context, to give you a picture of how policy changes may influence neighbourhood battery implementation, now and in the future.