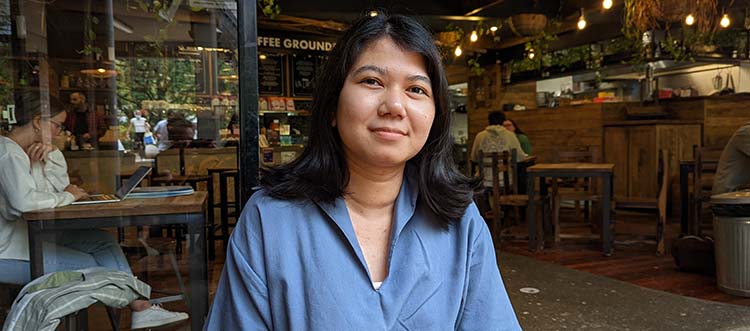 11 March 2022
Meet Lizbeth Dimonti, the Battery Storage and Grid Integration Program's newest PhD candidate. 
Originally from Jakarta, Indonesia, Lizbeth will call Canberra, Australia, home for at least the next three years as she embarks upon a PhD under the tutelage of Associate Professor Alexey Glushenkov, Research Lead, Material and New Technologies for Battery Storage within BSGIP.
With perfect timing, Lizbeth arrived in Australia in February 2022 as international border restrictions were easing and ANU students were returning to the lecture rooms in close to two years, since the pandemic first turned lessons online.
Lizbeth's first contact with ANU came through the Future Research Talent Awards (FRT) program in 2020. FRT provides selected students with an opportunity to travel to ANU to pursue collaborative research, for a period of 10-12 weeks. The FRT is a competitive and prestigious program attracting the best students from top tier Indonesian institutions. Because of the pandemic however, Lizbeth completed the 12-week collaborative research program with Associate Professor Alexey Glushenkov online.
Following on from the FRT program, Lizbeth was invited to undertake a PhD with the Battery Storage and Grid Integration Program. The PhD Lizbeth will dedicate her time to is in the field of battery characterisation using in-situ transmission electron microscopy.
BSGIP researchers working with the Research School of Chemistry have established an exciting and unique capability of conducting electrochemical experiments in liquid cells inside of transmission electron microscopes (TEM). This provides the opportunity to build realistic battery and three-electrode cells with liquid electrolytes and visualise the inner workings of operating batteries.
"I will be examining the effect that the atomic size of the elements such as lithium, sodium and potassium has on the electrochemical reactivity of various battery materials," said Lizbeth. "Battery degradation is another important area that I will be investigating during my PhD. In particular, I'll be exploring the effect of dendrites on battery degradation."
While Lizbeth is happy to further her career in research at ANU, her dream is to one-day work in industry.
"My ultimate aim is to work in industry in a full time research or R&D role. Perhaps I will fall in love with Australia and stay here for many years or maybe I will move to the US. My wildest dream is to work for Tesla or NASA, but who knows what path I will eventually take," said Lizbeth.
Whatever Lizbeth chooses to do; a bright future awaits her.